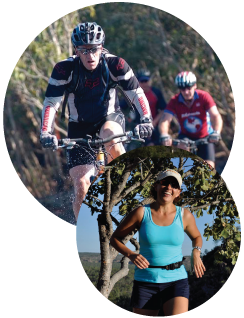 KATHERINE MULTISPORT CLUB
The Katherine Multisport Club organises a variety of outdoor sporting training sessions and events throughout the year, both in and around Katherine. The club is run entirely by volunteers and aims to provide a relaxed and friendly atmosphere where people can enjoy swimming, running, cycling and canoeing.
What sporting events do Katherine Multisport run?
Regular events held throughout the year include Triathlons, Mountain Bike events, Running events and the infamous Katherine Ultra Challenge. KMC also hold swimming, running and riding sessions weekly. All events and sessions cater for all abilities.
How do I participate?
Anyone can participate in the events organised by the club.  We strongly encourage all participants to become members. Click HERE to sign up – its FREE!
We also encourage our members to sign up to Triathlon Australia. They have a whole array of membership options, and signing up will ensure you wont need to pay a One Day membership at the Run Festival, Edith Triathlon, or the Katherine Ultra! Click HERE to join them too!
For specific times and where to meet, checkout the calendar for the events you're interested in!
New committee members are always welcome to help organise and coordinate events. Anyone interested in becoming a committee member can contact the club by emailing kmsclub@gmail.com
COVID 19
As the impacts of the COVID-19 pandemic evolve we wish to assure members that we've been staying up to date with the latest advice and guidance available from government.
Remember, if you are unwell, please do not attend training or our events. Stay at home and seek medical advice. Be mindful of the importance of keeping up to date with current advice regarding steps that should be taken to limit the spread of COVID-19 in the community.
Click HERE to sign up and join our awesome crew – zero dollars, zero obligations!