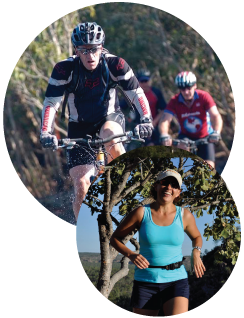 KATHERINE MULTISPORT CLUB
The Katherine Multisport Club organises a variety of out door sporting activities throughout the year, both in and around Katherine. The club is run entirely by volunteers, and aims to provide a relaxed and friendly atmosphere where people can enjoy swimming, running, cycling and canoeing.
What sporting events do Katherine Multisport run?
Regular events held throughout the year include triathlons. The club is also home to the infamous Katherine Ultra Challenge and mountain and road bike rides and races, open water swims, and the Katherine half marathon, cross country and bridge to bridge runs.
How do I participate?
Anyone can participate in the events organised by the club.  For specific times and where to meet, checkout the calendar or links for the events you're interested in!
New committee members are always welcome to help organise and coordinate events. Anyone interested in becoming a committee member can contact the club by emailing kmsclub@gmail.com
COVID 19
As the impacts of the COVID-19 pandemic evolve we wish to assure members that we've been staying up to date with the latest advice and guidance available from government.
We have adopted a number of procedures at our events,
Observe 1.5m physical distancing at events
Hand sanitiser will be supplied at race events
Competitors and participants required to be self sufficient (bring own water and nutritional requirements)
And remember, if you are unwell, please do not attend training or our events. Stay at home and seek medical advice. Be mindful of the importance of keeping up to date with current advice regarding steps that should be taken to limit the spread of CVOID-19 in the community.
This is a challenging time for individuals and organisations alike. Please do what you can to keep yourself and your families well and lookout after.