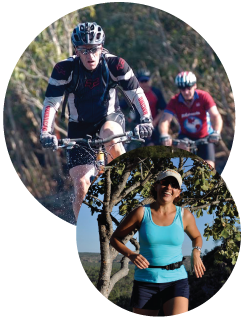 KATHERINE MULTI SPORT CLUB
The Katherine Multi Sport Club organises a variety of out door sporting activities throughout the year, both in and around Katherine. The club is run by volunteers, and aims to provide a relaxed and friendly atmosphere where people can enjoy swimming, running, cycling and canoeing.
What sporting events do Katherine Multi Sport run?
Regular events held throughout the year include fortnightly triathlons and canoe and kayak trips and races. The club is also home to the infamous Katherine Ultra Challenge and mountain and road bike rides and races, open water swims, and the Katherine half marathon and bridge to bridge runs.
How do I participate?
Anyone can participate in the events organised by the club.  For specific times and where to meet, checkout the calendar or links for the events you're interested in!
An entry fee for any event entitles you to membership of the club. With the exception of the Ultra Challenge, most events charge a registration fee of $5 (there will be a charge for each event if the club insurance is being used). You need to take responsibility for your own safety during all events held by the club.
New committee members are always welcome to help organise and coordinate events. Anyone interested in becoming a committee member can contact the club by email at kmsclub@gmail.com